Member
Welcome to SCSA
SCSA was established in 2002 with the aim to address emerging security threats on the supply chain industry. We believe that the joint effort of supply chain and security professionals could fight against security weaknesses in the most effective way. There are three types of membership – Corporate, Star Corporate and Special Training Package, each offers members a range of benefits, privileges and services.
By joining SCSA, you may receive all the latest information and events of the Association. We believe that your finding the programs and activities of the association will explore the development and business opportunities of the industry and meet the needs of its members.
For qualified member, a membership certificate would be distributed to recognize your professional status in the industry.
Should you have any enquiries, please feel free to contact us at (852) 2750 5358.
歡迎加入SCSA
於 2002 年成立的SCSA旨在解決供應鏈行業最新出現的安全威脅。 我們相信在保安及安全供應鏈協會的專業人員共同努力下能有效地對抗這些安全漏洞。 會員類型共有三種 – 企業,星級企業及特別培訓套餐,每種均提供一系列的福利,優惠和服務。
通過加入SCSA,您可以獲得關於本協會第一手最新的事件資訊。我們相信本協會的項目和活動不僅將帶您進一步探索行業的發展和商業機會,更將促進您滿足行業成員的需求。
成為合資格的會員,將獲得會員證書以表明在行業中的專業地位。 如有任何疑問,請隨時與本會聯繫(852)2750 5358。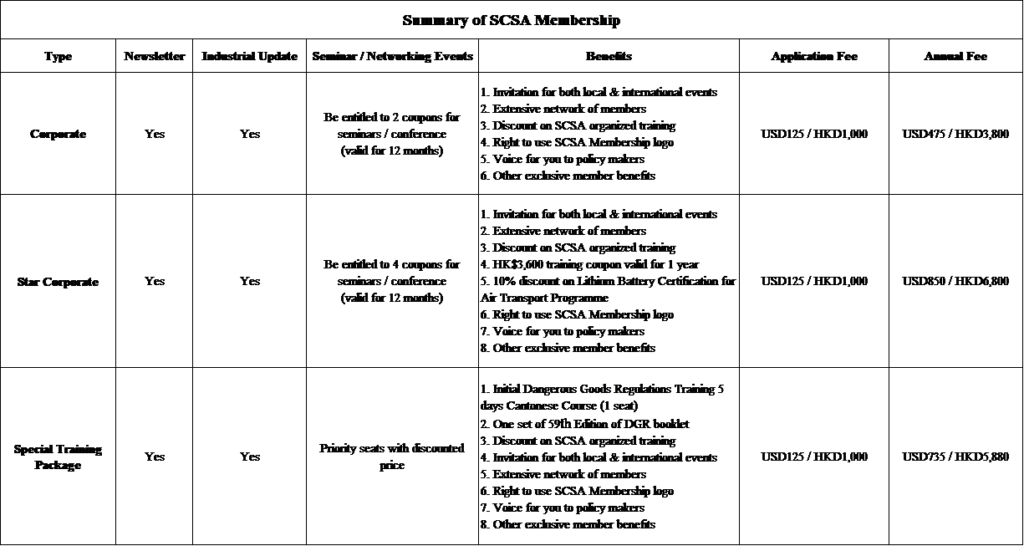 注意事項
根據會員類型,每年繳付所需會費,而會籍從繳費日當天起生效,每年續繳會費以延長會籍。
若會籍逾期後的1個月內仍未繳納相關費用,將被視為自動放棄會籍。如需重新入會,必須再次繳交申請費及該年度的會費,會員號碼亦將被重新分配。
登記表內之一切資料謹供本會內部使用,未能接納成為正式會員之已遞交表格將不獲退回。
供應鏈安全及保安協會(SCSA)保留一切權利,按實際情況更改或修訂內容,而毋須另行通知。
NOTICE
According to the type of membership, designated membership fee should be paid annually. The membership would be effective from the date of payment and which could be renewed each year to extend.
If membership fee could not be paid within 1 month after the membership is overdue, it would be considered as automatically waived. For re-applying the membership, Application fee and Annual Membership fee must be paid for that year. The membership number would also be re-allocated.
Information collected would be only used for internal purpose and forms of unsuccessful applications would not be returned.
Supply Chain Safety & Security Association (SCSA) reserves all right to revise these terms and conditions as needed without prior notice.
Terms and Conditions
Membership Terms and Conditions are an agreement between member and Supply Chain Safety & Security Association (SCSA).
Membership and benefits cannot be used for other individuals / companies.
Membership will be confirmed via text message and/or email. Each member will acquire a unique membership number.
SCSA reserves the right to terminate the association with a six-month notice period to members. Any such notice will be neither sent via email or posted as notification on website.
SCSA retains the right, without prior notification to members, to revise the Terms and Conditions of its membership program. Any such changes will be published on the website and will be effective 14 days after these changes were announced, unless otherwise stipulated. Members are responsible for keeping informed about any changes to the membership Terms and Conditions.
Contact us
If you have any enquiry regarding the SCSA or the Agreements, please contact Association Manager by visiting our website.
Thank you for reading Terms and Conditions.
條款與細則
會籍條款與細則是會員和供應鏈安全及保安協會(SCSA)之間的協議。
會籍身份和利益不得由其他個人或公司使用。
會籍資格將通過電話簡訊或電子郵件進行確認。每位會員均擁有唯一的會員號碼。
SCSA有權在提前六個月通知會員的情況下終止協會。此類信息將通過郵件傳達或在官方網站上發佈通知。
SCSA有權在未事先通知會員的情況下更改會員計劃的條款與條件。此類更改信息將公佈在官方網站上並在發佈後14天生效,如未另有規定。會員有責任跟進並了解有關條款與條件的任何更改。
聯繫我們
如您對於SCSA或此協議有任何疑問,請透過訪問官方網站與協會經理聯繫。
感謝閱讀此條款與細則。