Have you applied for the HK$5.7M Government Fund?
0
Deprecated
: Function create_function() is deprecated in
/home/prosfoar/public_html/scsasecurity.org/wp-content/plugins/wp-spamshield/wp-spamshield.php
on line
1884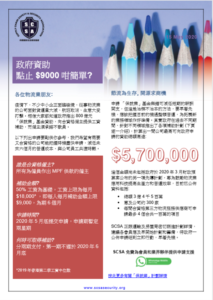 Dear SCSA members and friends in the logistics industry,
Just a little reminder, the 6-month Employment Support Scheme (ESS) under the HKSAR Government's Anti-epidemic Fund, which provides financial support to employers to retain employees, is NOW OPEN for online application till 14 June 2020 https://application.ess.gov.hk/en/apply  Please act fast and get this short-term subsidy in 3 to 4 weeks.
Do you know that ESS is only one of the many government subsidies that are helping SMEs in Hong Kong to upgrade/expand their businesses?  To name a few, the recently launched D-Biz Programme (max. HK$300K), the SME Export Marketing Fund (max. HK$800K), Technology Voucher Programme (max. HK$600K) and the Dedicated Fund on Branding, Upgrading & Domestics Sales (max. HK$4M).
HK$300K + $800K + $600K + $4M = $5.7M!!!
This has yet to include another pilot subsidy scheme of HK$345 million just announced in February 2020 dedicated for us logistics industry to enhance productivity through technology application.  Each eligible 3PL will receive up to HK$1M cumulative subsidy.
What we are going to say is, at this challenging times for us, we may well plan ahead to transform as best we can to a new mode of business.  Instead of getting stuck, prepare for a rebound.  Chance favours only the prepared mind.  With our experiences in surviving the ups and downs in the industry over the past 20 years, we'd openly invite you to get in touch with us to discuss how we can assist your business, by smartly use the government funds available.
Attached please find an overview of the subsidy funds and click below to arrange a call with us for details.  Or if you wish to keep posted of the logistics subsidy pilot scheme, please click here and leave us with contact details.
Schedule a Call about Funds
Update me of the logistics Scheme
We look forward to hearing from you.  All the best.
Jimmy Pang
President
Supply Chain Safety & Security Association
T: 27505358